While most people know him from either the NBC comedy "Community" or his stand-up routinue, multi-talented
Donald Glover
has some true skills on the mic. His flow is creative, insensitive and all-around extremely impressive. Under the stage name "Childish Gambino," Glover released a small EP titled "Freaks and Geeks" recently.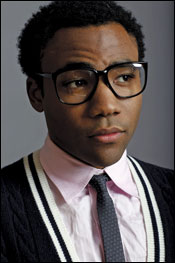 On off off the stage, Glover definitely gets his freak on
You can download the entire EP
here
from the cutting-edge "PMA" blog (aka Pretty Much Amazing). These are the same people who provided a lot of the indie/electro rap community with Chiddy Bang.
Here's the most well known song, and perhaps the most catchy, on the EP:
Count me a fan!